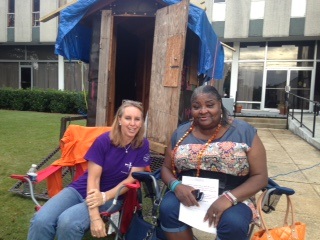 For the Son of man did not come to be served but to serve…
This scripture puts serving at the heart of following and discipleship. Love is not words, it is action. It is not lofty platitudes, it is sacrificial love. True social justice is not pickets, shouting and demeaning the other, it is coming along side people, getting into their story and mining out the image of Christ in them. We don't talk about substandard housing, we experience living in it. That makes the difference.
It is my final day living in a shack. With some large pledges overnight and some pastors from churches with large mission hearts coming today, we can get there. Our new total is $59, 434! $40,000 is still a big number…but we serve a big God with people who have sacrificial and generous hearts. What was that phrase, don't tell God how big your problems are, tell your problems how big our God is. Perspective.
My highlight yesterday was having Ms. Andrea McIntosh come sit with me. What a difference that makes! We served with Ms. Andrea last year getting her home rewired and repairing a kitchen that had a major leak rotting most of the floor. Ms. Andrea is a retired teacher who moved down from Pittsburgh to take care of her father who eventually died. She now lives in his house which had many issues. Without a car, some medical problems with her knees, and living several miles outside of town, she faces many challenges. Despite this, she has an incredible cookie ministry baking cookies for anyone she can. What made our summer special is her serving at Sonshine Kids Day Camp. The kids fell in love with her and she knew how to dole out sweet and sometimes tough love. Words do not explain the impact she made. That is what service looks like. Sometimes we are the giver and sometimes we are the receiver. Both require grace and humility.
Looking forward to several pastors coming this morning. Rev. David Camphouse from Grace UMC, Rev. Cory Smith and Rev. Charles Cummings from Auburn UMC, Rev. Larry Bryars from Frazer UMC, Rev. Lester Spencer from St. James UMC, Rev. Rusty Hutson from Cornerstone Church and Rev. Robin Wilson from FUMC Opelika. What a fun time!
We'll keep you posted on how it goes. We are raising funds but also want to encourage groups to come learn and serve with us putting love and discipleship into meaningful action!
Grace and peace!
lisa