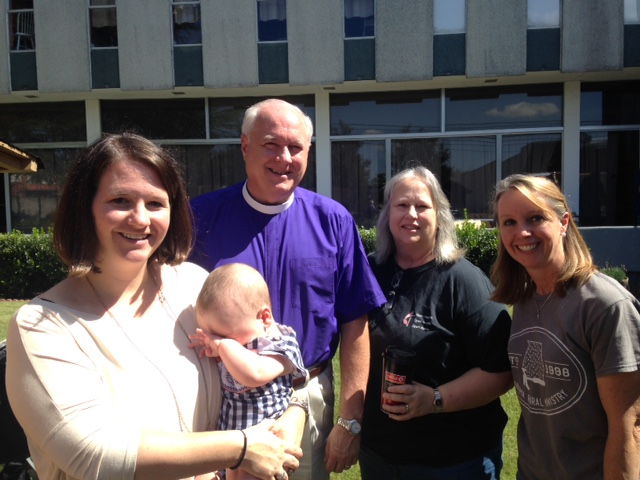 Tropical Storm Nate now lingers as an ominous rain event and putting another twist on living in the shack. Many have asked me what I will do. My first thoughts go to, what will our families do? How will they weather the storm? If he comes through as a TS, then I stay with it, stay in the shack and weather it out. If he comes in as a hurricane, knowing my shelter is not safe, I will evacuate into a hardstand building. But, I am here. This is what it means to empathize and know what people with substandard housing, desperate for repairs that make their home warm, safe, and dry go through.
We started early yesterday. An extremely committed group of high school students from Auburn UMC came out at 7:20am. They are discipleship groups meeting weekly at this time to deepen their walk and faith. Coming out to the shack, we talked about faith, the gospel, and Jesus' directives to serve with the poor and love our neighbor. I was inspired by them!
Our Bible study group came at 11:00 am and we are studying a book called, When Helping Hurts. We discussed the dangers from a biblical framework of when we match a need with the wrong kind of aid. How we can be paternalistic and have attitudes of superiority over the poor. These conversations continue to help us treat others like friends, not projects and to help us meet our own need to be needed.
Visitors for the day included Rev. Jeremy Pridgeon from FUMC Montgomery, Rev. Olivia Poole Reneau from Mt. Zion UMC, Rev. Steve Reneau from Trinity UMC Phenix City, Bishop David Graves, Rev. Elizabeth Whatley from Tuskegee UMC, Mrs. Dara Hosey-chair of our board, Mr. David Mashburn- ARM board, and Mr. Davis Lipscomb who stayed overnight in the guest shack.
In the afternoon, we had a group of young and older elementary students come out after school and visit the shack. They asked such good questions and pointed out all the problems with my little house. They seemed to take in that they could help others in need and wanted to help. They are going to raise enough change as a class to buy a new commode-$75! Really cool!!!! I was touched and encouraged. And then….we got to see the Budweiser Clydesdales!!!!!
As the evening closed, the Auburn Wesley Foundation invited me to eat with them and share why I have been camped out on their lawn and what ARM is doing. AU Wesley helped get ARM going and the inspiration behind our work. I love telling them how they are the ones that got this all started!
Despite it being Thursday night and a home game, it was surprisingly quiet and we slept well. No one ripped up my sign or tore anything up. All in all-restful. Grateful for what we have raised and the outpouring of love!
Looking forward to Day 3 and our Cardboard Box City tonight!