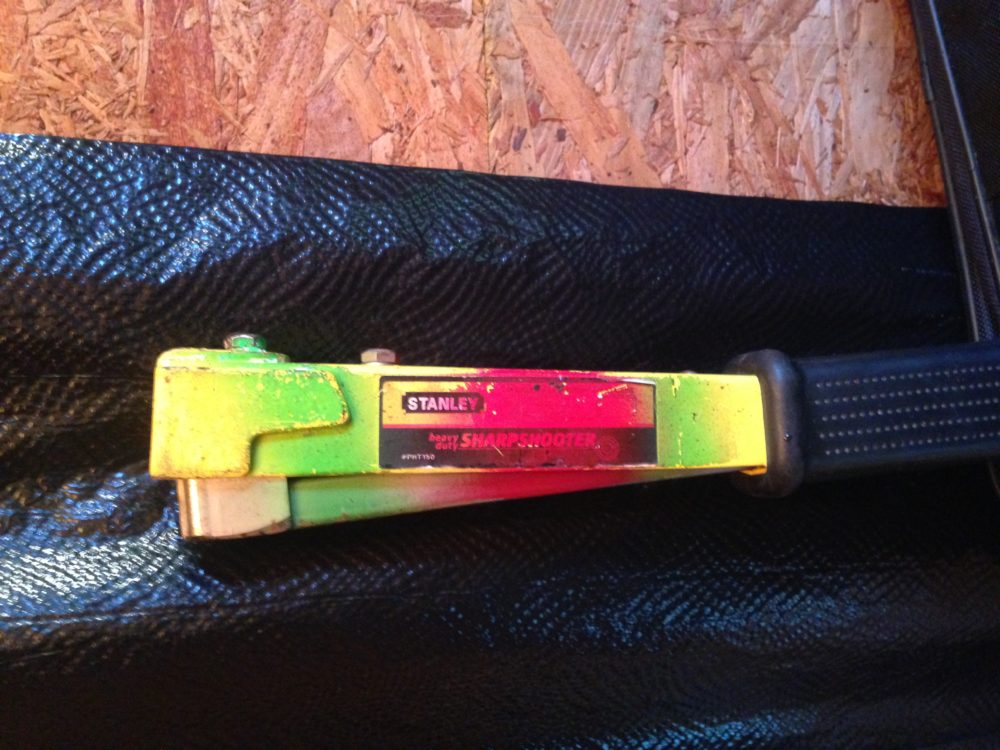 Sunday Oct. 8
Time is slipping by and I realized I had not updated since Friday. Hurricane Nate became the dominant center for most of us in the south east. We adjusted our plan; watched the weather and decided how to stay safe and dry.  Tarps were emplaced, the shack strapped to the trailer, display booths taken down, and an action plan developed in case evacuation was required. If the storm had stayed closer to east Alabama, my evacuation plan was into the hard stand building behind me. For now, it is rain and some howling wind forecasted to strengthen for much of the day and then diminish early evening. Why a picture of a staple hammer? It's a simple tool. Most people may not have this. It has become a necessity for me as I re-staple the plastic that is ripping away from my window which does not have a pane in it. This simple
What preparations did you make? Did it come easy? Were you limited financially or was it an inconvenience? How does your insurance work if your home was damaged? Most of us have a safety net in place for disasters. But thousands of people over the past six weeks have lost their homes, mementos and dreams. For many, FEMA assistance or insurance is unavailable. The quiet, unseen and chronic issue of substandard housing and rehabilitation needs goes unnoticed. There are few safety nets and choices are extremely limited.
That is why I stay in a shack. These all become real for me. I feel it and for a short time live it. I want you feeling it with me so that we "see" our neighbor. Your gift and helping others is deeper than the financial gift. It is coupled with Christian love and the fabric holding us all together.
On a lighter side, I enjoy all the people coming to see me; the kids visiting to paint the shack and learning about serving their neighbors. Meals and coffee flow from friends and neighbors and I am overwhelmed with gratefulness and love.
The Auburn alumni faithful and Ole Miss fans helped us raise over $350 in cash yesterday by getting lemonade and water from "KK". "KK" goes to church with me and is in elementary school. Wanting to help raise money for our families, she set up a free lemonade and water stand. It was a great success and she was so excited to serve in this way.
Being warm, safe, and dry in our homes is a given until something happens. Your gift is ensuring our seniors, single parent moms, and small families have a safety net. Your gift is matched with some incredible volunteers and co laborers helping make a tangible difference and extend Christ's love!
Lisa