Get Lisa and Other Alabamians Out of the Shacks! Also join us for our poverty lunch seminar series!
There are over 102 families in the Lee and Macon County area alone that need vital repairs to make their homes safe,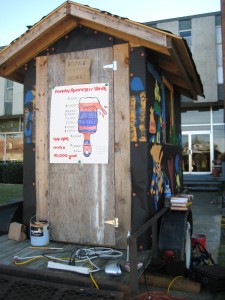 warm, and dry! In order to serve these families and bring attention to their struggles, our director is going to simulate what life is like by living in a shack.
The goal is $50,000 to get her out. These resources will be applied to the home repair efforts that will help us use volunteers to work on homes. Just click the below PayPal button to donate. We'll keep a running tally posted!
SEE THE VIDEO OF THE SHACK AT THE BOTTOM OF THIS PAGE
Raised: $30,800 as of Nov.7th!       
Pledge Form (you can send gifts in as late as December 1, 2012)
All donations tax deductible
Lisa will be in front of the Auburn Wesley Foundation on Gay Street across from Tiger Rags beginning Thursday Oct. 25th and will remain as late as Friday Nov. 2nd. Whether rain, shine, heat or cold, she will be at her shack talking with people about poverty housing in Alabama and ways they can help.
We have a special twist this year! TWO shacks! Local pastors, community servants, and even some college students will be committing to twenty four hours. You can see Steve Bass from Trinity UMC, Rusty and Josh from Cornerstone Church, George and Charles from Auburn UMC, Jennifer Chambliss, Mike Martin, and more! Together, we have a goal to raise $50K for local families!Alabama Rural Ministry's Lisa A. Pierce and Charles Cummings on WTVM and bringing awareness about sub-standard housing in Alabama! See this video by wtvm channel 9 http://www.wtvm.com/story/19980501/arm-raises-awarenmess-for
A special part is with kids! They can visit and paint on the shack for a $5 donation and they get to have a new paint brush! It's a great way to help kids understand serving others and some of the harsh conditions others may face.
If you want to know more information, ARM has partnered with other organizations to offer lunch seminars for the week. Below is a list of the seminars, presenters, and locations. Bring your lunch and have an engaging hour with these community servants! See below or print the workshop PDF.work shop flyer
Monday Oct. 29   -Alabama Poverty Project/Alabama Possible- Ms. Kristina Scott
Tuesday Oct. 30th -Auburn Rural Studio-Rusty Smith
Wednesday Oct 31st- Hale Empowerment and Revitalization Org (HERO)
Thursday Nov. 1st- I Am My Brother's Keeper (IAMBK)- Dr. Trellis Williams
Friday Nov. 2nd- "When the Oppressed Become the Oppressors"- Mrs. Emily Jones, AU
Workshops begin at noon at the AU Student Center Rm 2216  . Bring your lunch! You can park on the 3rd tier of the AU parking deck and not get ticketed.
For more information call (334) 501-4276
Check out this video about the shack:

the shack from Alabama Rural Ministry on Vimeo.