Hope for Homes: a.k.a. No More Shacks Campaign and Poverty Workshop Series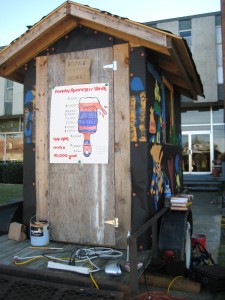 Alabama is short 90,000 homes. There are over 100 families in the Lee and Macon County area alone that need vital repairs to make their homes safe, warm, and dry! In order to serve these families and bring attention to their struggles, our director and other volunteers are going to simulate what life is like by living in a shack.
The goal is $50,000 to get her out. These resources will be applied to the home repair efforts that will help us use volunteers to work on homes. Just click the below Donate Now button to donate. We'll keep a running tally posted!
(You can send gifts in as late as December 1, 2014)
Come Visit Lisa at the Shack!
Lisa will be hanging out at the shack in front of the Auburn Wesley Foundation on Gay Street across from Tiger Rags beginning Saturday October 18th and will remain as late as Saturday October 25th. Whether rain, shine, heat or cold, she'll be there day and night talking about how we can work together to end poverty housing in rural Alabama.
Bring the Kids!
Feel free to bring your kids along when you visit Lisa at the sack. With a $5 donation, they can get a free paint brush to use right away as they help beautify on Lisa's shack! It's a great way to help kids understand serving others and some of the harsh conditions others may face.
The Guest Shack
Lisa won't be alone! We have a second "guest shack" setup for our friends and supporters who want to help spread the word about our ministry by spending some time in a shack of their own. Local pastors, community servants, and even some college students will be committing to four hour blocks and staying overnight. Several of ARM's board members, local ministry leaders, and community leader's will be there!
Lunch Seminar Series
If you want to learn more about poverty and how you can serve others in our community, ARM has partnered with other organizations to offer lunch seminars throughout the week. Below is a list of the seminars and presenters. All seminars will be held on the Auburn University campus at the Student Center Room # 2218. Join us from 12pm-1pm and be sure to bring your own lunch.
| | | |
| --- | --- | --- |
| Tuesday Oct. 21 | Alabama Arise | learn about the top legislative issues affecting low-income families |
| Wednesday Oct. 22 | Kermit Farmer of The Village Creed | learn about an exciting new online platform for matching volunteers to meaningful points of service in Lee County |
| Thursday Oct 23 | Lisa Pierce of Alabama Rural Ministry | learn more about our ministry and how you can be involved |
Alabama Rural Ministry's Lisa A. Pierce and Charles Cummings on WTVM and bringing awareness about sub-standard housing in Alabama!