The Summer Ministry runs from June 9th-July 27th, with both Week Long and Extended Weekend trips available. ARM has many different opportunities to serve with our main emphasis being a youth mission camp during the summer. Below are ways you can get involved through our summer youth mission camps. Register now by printing off the registration form found below and sending to us. For information about year round opportunities, click here.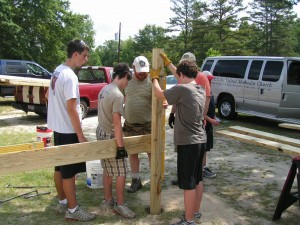 Home Repair: The summer is our busiest time! We host youth groups at two mission camps in Alabama. You spend the bulk of your week partnered with a family to repair their home and share your heart with them. And we are not a painting ministry…more like replacing roofs, building wheelchair ramps, reconstructing floors and more. And…some painting. But these are families with serious needs who have few resources and many times have been scammed. For more detail read more.
Also during the week  your team can visit local museums, hear stories from people within the community, and one night we gather together and have a big dinner with our families. It's home repair and so much more!
Sonshine Day Camp: Your team can also serve at our day camp. We like to say our day camp is like VBS on steroids.  It is a place for children 5-12 years old to feel safe and loved while learning about God and helping them grow. The children participate in games, songs, Bible stories, educational activities, crafts and group recreation. Kids swim, have speakers,mini-field trips and more. Your team helps us plan these enrichment activities! And your youth get to mentor these eager kids! To learn more, click here.
For details about our summer locations and costs, please take a look at the following links. A printable version of the registration form as well as other necessary forms can be found under the "registration forms" link.  For more information about scheduling a summer mission trip, email us at serve@arm-al.org
Cost Information and Scheduling